Vektor CP1

Type
Semi-automatic pistol
Service History
Introduced
Early in Second Bug War
Users
United Citizen Federation: Mobile Infantry:: Marines
Wars
Second Bug War
Production History
Developer
Vektor Company
Produced
Unknown
The Vektor CP1 is a standard-issue sidearm in use by the United Citizen Federation during the Second Bug War.
Starship Troopers 3: MarauderEdit
Major General Dix Hauser carries the CP1. Enolo Phid's aide-de-camp used the CP1 to fire a round of bullets into the Brain Bug's head.
Level of Technology
Edit
Semi-automatic pistol, single-action, gas-delayed blowback action with a gas cylinder located below the barrel, polymer frame.
Specifications
Edit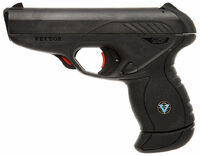 Caliber: 9×19mm Parabellum
Magazine capacity: 13/12
Effective firing range: 165 ft (50 m)
Muzzle velocity: 330 to 360 mps
Rifling: 4 Grooves to the right
Length of weapon: 178mm
Barrel length: 101mm
Weight unloaded: 1.58 lbs (720 g)
Behind the Scenes
Edit
A Red Laser Module is fitted to the pistol (without a weaver mount), shielding the safety switch located at the front of the trigger-guard. A recoil compensator is fitted to the muzzle.
Since Vektor CP1 is a gun manufactured in South Africa, which is also the film location for Starship Troopers 3: Marauder, it is possible the filming location is a consideration for the filming crew to choose the weapon for the film.
Appearances
Edit
External links
Edit
Ad blocker interference detected!
Wikia is a free-to-use site that makes money from advertising. We have a modified experience for viewers using ad blockers

Wikia is not accessible if you've made further modifications. Remove the custom ad blocker rule(s) and the page will load as expected.