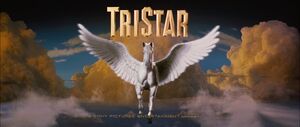 TriStar Pictures, Inc. (spelled as Tri-Star until 1991) is an American film production/distribution studio and subsidiary of Columbia Pictures, itself a subdivision of the Columbia TriStar Motion Picture Group, which is owned by Sony Pictures.
Tristar is the company that produced Starship Troopers film series.
Starship Troopers productionsEdit
Ad blocker interference detected!
Wikia is a free-to-use site that makes money from advertising. We have a modified experience for viewers using ad blockers

Wikia is not accessible if you've made further modifications. Remove the custom ad blocker rule(s) and the page will load as expected.