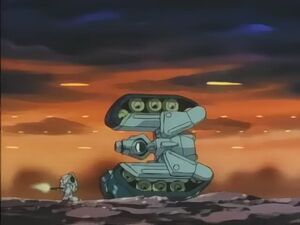 The A.V.S. "Tortoise" (従軍カメラ "カメっ子" Jūgun Kamera Kamekko)[1] is a movable camera deployed on battle field to record everything it can caught on battlefield.
A Tortoise possesses three caterpillar on its top and two sides respectively, making it an all-terrain vehicle.
The nickname in Japanese "Kammeko" is a combination of "Camera" (カメラ) and the "Turtle" (カメ) in Japanese.
The Tortoise is dropped to planet surface by a parachute.[3]
Appearances
Edit
References
Edit
↑ Page 83, Starship Troopers Memorial Handbook
↑ 3.0 3.1 Starship Troopers episode "Carmencita"
Ad blocker interference detected!
Wikia is a free-to-use site that makes money from advertising. We have a modified experience for viewers using ad blockers

Wikia is not accessible if you've made further modifications. Remove the custom ad blocker rule(s) and the page will load as expected.