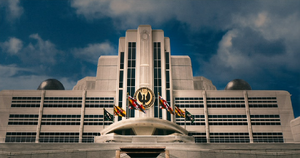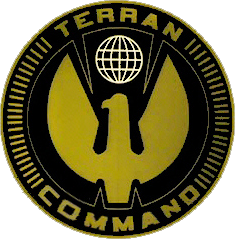 The Mobile Infantry Headquarters/Terran Command (MIHQ/TCOM) Building is built in Neoclassical style and has hemispherical domes on top of its two wings, protecting radar and communications antennas from the environment.
As the name implies, the building serves as headquarters and offices for the Sky Marshal and other high-ranking officers of the Mobile Infantry.
On General Hauser's computer in Terran Command, several unseen weapons and equipments are listed on an itinerary:
Hop Grenades
Litho rounds
Tick tack bombs
Pulse Ray Mine
Spider Cluster 200
AD Super Slice
Saw gun K. S20
Titanium Ground Cracker
Gravity Destabilizer Nuke
Smart Cluster Bombs
Sneak Atom Ray
Nano Micro Missiles
Automatic Nail Wrench
Telepathic destabilier
Electric Taser 250
Smooth .ZI Silences
Cat's Eye Night Rifle
Automatic Shredder
Hard Hammer Rounds
Knuckle Wrench P50
Low Ray Splatters
Titanic Hydro Missiles
Hydro JRK 700
Hut Fire Rounds
Jubilee Cannon M10
Although many of these are probably offensive weapons, they are listed under defense instead of weapons.
Appearance
Edit