Sky Marshal Sanchez

Biographical

Born

Anatomy

Race

Human

Gender

Male

Political

Affiliation

SICON

Occupation

Sky Marshal of the Federation (SICON)
Sky Marshal Sanchez is the top military brass of the SICON Forces. Has demonstrated a willingness to sacrifice civilian lives if he believes it will help achieve victory.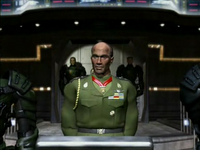 Ad blocker interference detected!
Wikia is a free-to-use site that makes money from advertising. We have a modified experience for viewers using ad blockers

Wikia is not accessible if you've made further modifications. Remove the custom ad blocker rule(s) and the page will load as expected.