The deadliest weapon in the galaxy is a Pathfinder and his Morita.

—Pahtfinder motto, Pathfinders Army Book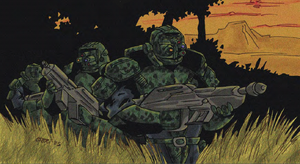 Pathfinders are elite soldiers within the Mobile Infantry of the United Citizens Federation.
The official role of members of the Pathfinders platoons is to conduct special reconnaissance, unconventional forms of warfare and in theory, perform counter-terrorism missions through Federation space. However, unofficially they take part in missions that even cap troopers find impossible. This means that Pathfinders are a cut above the average trooper even though few civilians or citizens are aware of their existence. During the selection process and training, the washout rate is noted as being high with casualties amongst Pathfinder units being sometimes terrible. Despite this being the case, they remain as one of the best soldiers that humanity can offer on the modern battlefield and its members are extremely well equipped to perform their assigned duties.
Pathfinders are often looked up to by other troopers as being the highly trained elite. Their duties can often seen them reconnoiter important strategic positions behind Arachnid positions. It is these soldiers that are tasked with extracting squads that are cut off by swarms of Warrior Bugs or even enter bug holes in order to assassinate a potent Brain Bug. To accomplish their duties, they are given the best equipment and are trained to the highest standard by the Federation. However, in return, they are expected to complete missions that other forces within the Mobile Infantry which would be suicidal.
Known units
Edit
Appearances
Edit
References
Edit
| | |
| --- | --- |
| | This article is a stub. You can help the Starship Troopers Wiki by expanding it. |