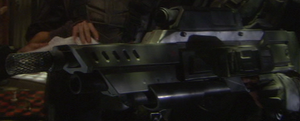 Several years after the Klendathu System Campaign, the E-pulse 44 Rifle was introduced to the Mobile Infantry, and used in at least several units of the 701st Mobile Infantry. The E-pulse rifles are more powerful than the conventional Morita Assault Rifle, but had a slower rate of fire.
These rifles were equipped late into the First Bug War, however by the Second Bug War, they were not put into any form of mass production; the Federation instead opting to arm its forces Morita III Assault Rifles.
Ad blocker interference detected!
Wikia is a free-to-use site that makes money from advertising. We have a modified experience for viewers using ad blockers

Wikia is not accessible if you've made further modifications. Remove the custom ad blocker rule(s) and the page will load as expected.